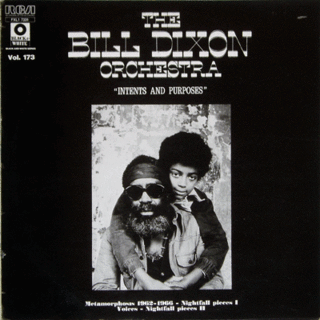 Si hay un músico de free jazz que logra mantener mi atención en toda su obra ese es sin duda Bill Dixon, pionero en movilizar un contigente de músicos para orientarlos a la música de vanguardia de aquellos frecientes años 60, quien otro que el fundador de la
Jazz Composer's Guild
, que agrupó a los inquietos músicos de Neuva York, entre ellos, Carla Bley.
El disco presente tiene todos los acentos habituales de Dixon al mando de una Orquesta de free jazz; Batería improvizada, un poderoso núcleo de vientos dividiéndose en sostén armónico, línea de soleo y bajo rítmico, percusionistas, etc.
Un músico concreto, sólido, que ya muestra todas las luces de su genialidad en su maravilloso "Going to the Center".
Tracklist:
01. Metamorpjosis
02. Nightfall Pieces I
03. Voices
04. Nightfall Pieces II
Links: (FLAC | Separate Tracks)
1
2
Pass:
edelce