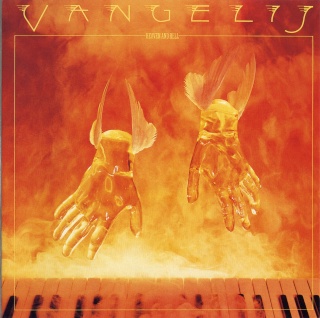 Uno de los discos más impresionantes del músico griego, conflyen toda se creativa en un rock progresivo mezcla de
cosmisismo
(ya explorado antes en Albedo) y exhuberancia, pasajes recreados en los ARP Odissey, Moogs, pianos y todas esas maravillas que Vangelis sabe utilizar tan bien. La entrada es sencillamente magnífica, voces y sintetizadores inervan orgasmos que escalan casi furiosos por senderos multicolores, hay cascadas que embisten y rompen, sacunden, estallan!.
Obra que vuelve íntimos al Vangelis y Jon Anderson, su colaboración no pasará inadvertida, en donde protagoniza el sobrecogedor clímax llamado "Tercer Movimiento" (por no pertenecer creativamente a esta obra), una caricia a la tenura.
Tracklist:
01. Heaven & Hell (part one)
"
Bacchanale"
"Symphony to the Powers B"
(Movements 1 and 2)

"Movement 3"
(from "Symphony to the Powers B")

"So Long Ago, So Clear"
02. Heaven & Hell (part two)
"Intestinal Bat"
"Needles and Bones"
"12 O'Clock"
"Aries"
"A Way"
Links (APE + CUE + Log + Scans)
http://rapidshare.com/files/275375190/V_-_H_H1__Edelce.rar
http://rapidshare.com/files/275380646/V_-_H_H2__Edelce.rar
http://rapidshare.com/files/275391663/V_-_H_H3__Edelce.rar
Pass
: edelce