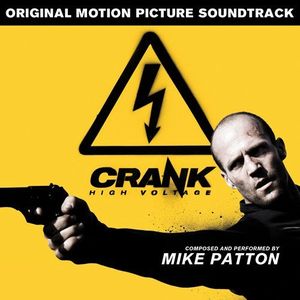 Tracklist:
1. Kickin' (1:33)
2. Chelios (2:34)
3. Sweet Cream (Redux) (2:35)
4. Organ Donor (2:10)
5. Chickenscratch (1:37)
6. Tourettes Romance (1:29)
7. Doc Miles (1:03)
8. El Huron (2:03)
9. Tourettes Breakdance (2:23)
10. Juice Me (1:13)
11. Hallucination (0:54)
12. Porn Strike (1:01)
13. Surgery (2:48)
14. Social Club (1:30)
15. Chocolate Theme (1:12)
16. Ball Torture (0:51)
17. Chevzilla (2:13)
18. The Hammer Drops (2:13)
19. Triad Limo (3:09)
20. Shock & Shootout (2:44)
21. Pixelvision (1:44)
22. Spring Loaded (2:16)
23. Verona (1:19)
24. Car Park Throwdown (1:39)
25. Noticias (0:16)
26. Catalina Island (1:18)
27. Supercharged (0:52)
28. Massage Parlor (1:19)
29. Full Body Tourettes (0:27)
30. Epilogue - In My Dreams (4:15)
31. Friction (0:57)
32. Epiphany (1:19)
1. Track title (3:04)
2. Track title (9:07)
Line-up/Musicans:
- Mike Patton / all vocals and instrumentation
Lossless (FLAC | Tracks separados | CUE):
http://rapidshare.com/files/275501586/heru-mp-chv-2009flac.part1.rar
http://rapidshare.com/files/275510417/heru-mp-chv-2009flac.part2.rar
http://rapidshare.com/files/275519249/heru-mp-chv-2009flac.part3.rar
http://rapidshare.com/files/275526263/heru-mp-chv-2009flac.part4.rar
Password: goya
Segundo OST consecutivo que realiza el extraño Patton. Esta vez, para una película de acción algo surrealista: Crank. En su segunda entrega, Crank continúa igual de frenético y, tras los tiroteos y patadas de Jason Statham (más conocido por su protagónico papel en "El Transportador"), se desata una nueva cinta bastante ágil y movida.
Ahora bien, se supone que acá nos planteamos comentar el disco creado por Patton y no la película para la cual está adecuado, pero esto es inevitable. Es decir, resulta complejo comentar un OST sin tener en cuenta al menos la tónica de la película para cual fue construido. En este caso, Mike Patton realiza un trabajo sumamente restringido: no una banda sonora menos libre que la de un film de acción.
Sería ridículo incluir temas ambientales, con tonos complejos, juegos vocales noise o algo de experimentación con toques jazz si, a fin de cuentas, el cometido es crear una buena cantidad de temas cortos que sean un "telón de fondo" para muchas, pero muchas explosiones. Es, cláramente, una tarea que se encuentra en segundo plano, cuya meta será nada más que mantener la adrenalina y la atención del espectador fluyendo en torno a las imágenes que contempla.
Patton logra bastante bien dicho fin. Realiza un OST diverso, con mucha composición electrónica, construyendo pasajes algo arriesgados de interpretar y creando una gran cantidad de temas simplemente con gran estilo. No será fácil de valorar este trabajo, por cuanto es lo último de Patton: cualquiera esperaría un trabajo sublime, digno de la gran carrera del músico. No es así, ya que nos encontramos ante un trabajo promedio, no sobresaliente y poco bizarro.