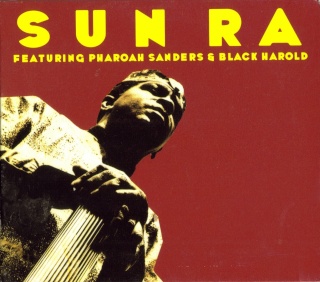 Recién ripeadito de uno de los discos que me prestó mi buen amigo Diegontarkösz, y en el que curiosamente había trabajado una de mis amistades de Last.fm, Miles Bachman, dos buenas razones para escucharlo que se sumaban a otro par; tocan acá Pharoah Sanders y Black Harold.
Y el disco como nunca, me sorprende por su fuerza, comienza sin ningún recato y mostrando de inmediato la talla de músicos que tenemos enfrente, el tenor de Sanders coincide maravilloso con el piano de Sun Ra, y toda la Arkestra responde a la improvización, Black Harold no se queda atrá y retoma la embestida con su percusión hipnótica que dirige tácitamente el carnaval selvático que desarrollan los doce músicos ante un público extasiado.
Tracklist:
01. Cosmic Interpretation
02. The Other World
03. The Second Stop is Jupiter
04. The Now Tomorrow
05. Discipline 9
06. Gods On A Safari
07. The World Shadow
08. Rocket Number 9
09. The Voice of Pan
10. Dawn Over Israel
11. Space Mates
Links: (APE + CUE + Log + Scans)
1
2
3
4
Pass:
edelce
*No bien termino de subir los enlaces, MU me advierte con su idiota mensaje de desactivación (que no copiaré por asunto de bots saboteadores), así que intente bajar con JDownloader que si funciona.