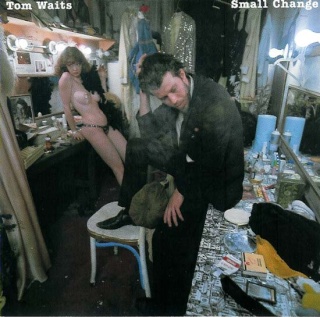 Tracklist:



1. Tom Traubert's Blues (Four Sheets To The Wind In Copenhagen)
2. Step Right Up
3. Jitterbug Boy
4. I Wish I Was In New Orleans (In The Ninth Ward)
5. The Piano Has Been Drinking (Not Me)
6. Invitation To The Blues
7. Pasties And A G-String (At The Two O'Clock Club)
8. Bad Liver And A Broken Heart (In Lowell)
9. The One That Got Away
10. Small Change
11. I Can't Wait To Get Off Work

Line-up/Musicans:

Harry Bluestone – violin, concertmaster strings
Jim Hughart – bass
Ed Lustgarden – cello, orchestra manager strings
Shelly Manne – drums
Lew Tabackin – tenor saxophone
Tom Waits – vocals, piano
Jerry Yester – arranger & conductor of string section



Lossless (FLAC | Tracks separados | Art)



http://rapidshare.com/files/298182219/heru-tw-sc-1976flac.part1.rar
http://rapidshare.com/files/298193692/heru-tw-sc-1976flac.part2.rar
http://rapidshare.com/files/298203063/heru-tw-sc-1976flac.part3.rar



Pass

: goya

Tal vez el disco más depresivo y dramático de Waits, sencillamente un gran obra maestra. Poco he comentado sobre la vida de Waits y es que, hasta el momento, no he sentido la necesidad. Sin embargo, basta conocer un sencillo dato para darle sentido a gran parte de Small Change: el profundo alcoholismo de Tom Waits.

Para mediados del 70, el alcoholismo de Waits se agravó y, de sus propias palabras, surgieron noticias en torno a su deteriorado estilo de vida. Small Change es, sin más, una impresión de aquella frenética y hundida transitoriedad llamdo "el Waits del 76". Temas como "The Piano Has Been Drinking" corroboran, sin duda alguna, la depresión que el genio expresa a través de aquellas sensibles composiciones; éstas, si bien interesantes anteriormente, han evolucionado en un nivel artístico mucho más desgarrador y pesimista.

Esto no quiere decir que Tom haya perdido el talento para disfrutar de un buen blues y jazz. Temas como "Pasties And A G-String" son la muestra de experimentación de este disco, incluso llegando a acercarse con ciertos tonos de rap. "Step Right Up" es el hit del disco, criticando sin tapujos al consumismo (ya muy notorio en la sociedad de esa época) y gritando por su fobia hacia el mundo comercial musical. Lo curioso es que dicho tema será plageado en el futuro como el tema de fondo de un comercial televisivo, motivo por el cual Waits acudirá a la justicia y ganara un juicio que le otorgará cuantiosas indemnizaciones; Tom tiene buenos abogados...