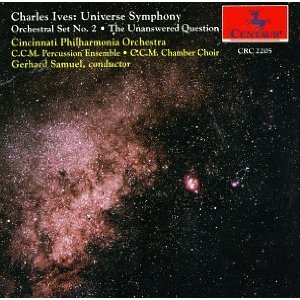 Tenemos la vida para darnos cuenta de lo ignorante que somos, por ello nunca voy con arrogancias que me pongan en una posición de altivez que no me corresponderá jamás. Y caigo en la cuenta de ésto cuando después de haber escuchado tanta música orquestal, no había reparado jamás en la composición de Ives, tan distinta al resto, con un temple que juega tan curioso con timbres y armonías que no había estudiado, será un objeto de análisis por un largo tiempo.
Tracklist:
01. Universe Symphony
Orchestral Set No. 2, for Orchestra
02. No. 1, "An Elegy to our Forefathers"
03. No. 2, "The Rockstrewn Hills Join in the People's Outdoor Mee"
04. No. 3, "From Hanover Square North, at the End of a Tragic Day"
05. The Unanswered Question (I & II)
Links: (FLAC - CUE - Log - Scans)
1
2
3
Pass:
edelce