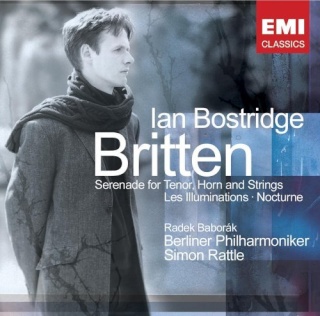 Uno de mis directores favoritos, dirigiendo una de mis piezas favoritas del repertorio docto, la música de Benjamin Britten se desmarcó de su escuela inglesa pero conservando un espíritu con elegante retrospectiva hacia las tradiciones anteriores al eclecticismo propio del siglo XX, el compositor busca como motivos liricos la poesia de siglos anteriores, rescatando el valor de sus historias, sus enseñanzas y la forma de vivir en naturaleza, hablo en particular de su
Seranade
Opus 31, cada pasaje está repleto de sutiles y avasalladores encuentros con paisajes, amaneceres, nevazones, con la exhuberancia de lo sencillo, con el diminuto físico palpable de una realidad que nos enriquece más que nada. El
Nocturne
de aquella pieza es sin duda una de mis composicions favoritas del género, me atrapa, hunde, y dejo pasearse a varios segundos antes de poder remotar mi quehacer.
Tracklist:
Les Illuminations
01. I. Fanfare
02. II. Villes
03. IIIa. Phrase
04. IIIb. Antique
05. IV. Royauté
06. V. Marine
07. VI. Interlude
08. VII. Being Beauteous
09. VIII. Parade
10. IX. Départ
Serenade
11. Prologue
12. Pastoral
13. Nocturne
14. Elegy
15. Dirge
16. Hymn
17. Sonnet
18. Epilogue
Nocturne
19. On a poet's lips I slept
20. Below the thunder of the upper deep
21. Encinctured with a twine of leaves
22. Midnight's bell goes ting, ting, ting
23. But that night when on my bed I lay
24. She sleeps on soft, last breaths
25. What is more gentle than a wind in summer?
26. When most I wink, then do mine eye best see
Ejecuta:
Ian Bostridge,
tenor
Radek Baborák,
corno
Berliner Philharmoniker
Dirige:
Sir Simon Rattle
Links: (FLAC - CUE - Log - Scans)
1
2
3
Pass:
edelce